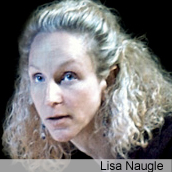 Lisa Naugle is a Professor of Dance in the Dance Department of the School of the Arts at the University of California, Irvine. She is the recipient of the Cecil and Ida Green Honors Professor's Award, 2000. She holds a Ph.D and MFA in dance from New York University. Lisa was a member of the Nancy Hauser Dance Company and has performed with several dance companies in the United States and Canada. Her background as a dancer includes work with Hanya Holm, Alwin Nikolais, Merce Cunningham, and Eric Hawkins.
Her current research and creative activity centers on computer-based applications for dance including motion capture, telematic performance, and interactive technology. Lisa's telematic performance works,Voyage of Aeneas:FIXED/NOT, Reverse Patterns, Songs of Sorrow, Songs of Hope, The Cassandra Project, and Janus/Ghost Stories integrate dance, music and interactive video in distributed performances linking different geographical locations across the United States and Canada. Dancing in the Active Space and The AVA Project involve motion capture animation with live dancers influencing sound and video. Her videodance, inviTRIO, was presented in the Dance and the Camera Festival in New York City. Other recent work includes Portal, Split and Invisible Walls, a dance trilogy exploring the use of processed digital video and computer-based interactivity in live performance.
She has performed and choreographed in London, Amsterdam, Germany, Italy, Poland, Hungary and Canada, as well as throughout the USA. Her papers have been published in Dance Research Journal, Performance Art Journal, Journal for Distance Education and in numerous conference proceedings. She is active member of Congress on Research in Dance and was a founding member of the International Dance and Technology organization.