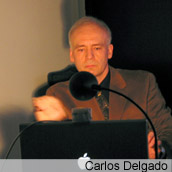 Carlos Delgado's music has been heard in concerts, festivals, and radio broadcasts in Argentina, Australia, England, France, Germany, Hungary, Italy, Japan, Romania, Spain, Venezuela, and the United States. A composer who specializes in electroacoustic chamber music and multimedia, his works have been presented at venues such as Merkin Recital Hall in New York; the 11th Biennial Symposium on Arts and Technology: New Creativity at the Ammerman Center Auditorium, Connecticut; St. Giles Cripplegate / Barbican, in London, England; the Rencontre Internationale de Science & Cinema (RISC) in Marseille, France; the Strada Facendo Festival, in Pisa, Italy; the International Contemporary Music Week and the International Society for Contemporary Music's World Music Days in Bucharest, Romania; the BKA Theater in Berlin, Germany, and the Black Sea Symphony in Constanta, Romania. In October of 2011 he participated in the international festival of electro-acoustic music EMUFest 2011 held at the St. Cecilia Conservatory in Rome, Italy.
A winner of the 1996 Society of Composers CD Series Award, several of his works have been recorded by world-class artists such as Emil Sein, Corrado Canonici, Roger Heaton, and Beate-Gabriela Schmitt, and are available on the CRI (New World Records), Living Artist, Capstone Records, and Sonoton ProViva labels.
He was first exposed to Max programming during his graduate studies at New York University in 1997, and has since furthered his knowledge through seminars and courses at Harvestworks (New York City), CNMAT (Berkeley, California), and IRCAM (Paris).
His research interests range from gestural control to musical applications of artificial intelligence techniques and the design of interactive music systems. He is the author of several software programs, including Lev, a gestural control instrument for music and video performance, and Simone, an interactive live performance program. He has performed on Lev at Symphony Space in New York City; the Ennio Morricone Auditorium in Rome, Italy; the Titu Maiorescu Romanian Cultural Institute in Berlin, Germany; the Musica Senza Frontiere Festival, in Perugia, Italy; and many others.